RAZER ABYSSUS MOUSE + GOLIATHUS SPEED MOUSE MAT COMBO
» Brand

:

Razer

» Part Number

:

RZ83-02020100-B3M1

» Lighting

:

Single Color

» Connector

:

USB

» Stock Availability

:

Out of stock
Price:
5,500.00
Description :
Razer Abyssus - Ambidextrous Gaming Mouse
Highly tactile ergonomic buttons
Know the exact moment when your commands register in-game as you wield the all-new Razer Abyssus. With rapid-fire tactile switches under the 3-button setup, each boasting a lifespan of up to 5 million clicks, and designed with ergonomic grooves for your fingers, you'll always have speed, durability, and comfort in any gaming situation.
3500dpi optical sensor
Experience the superior sensitivity and responsiveness of this gaming mouse as it accurately translates your every move, into in-game movement. Fitted with a 3500dpi optical sensor, the Razer Abyssus lets you truly perform as fast as your reflexes.

Textured surface side grips
Upgraded with textured surface side grips, the Razer Abyssus now gives you even more control and precision over your mouse during lift-offs and fast swipes.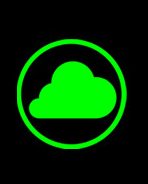 RAZER SYNAPSE
Enhance your Razer Abyssus experience with Synapse, Razer's cloud-based hardware configurator with online cloud support. You get to customize every detail to be saved in the cloud, so you can play at your best in an instant, wherever you are. By also keeping your peripherals at their best via automatic driver and firmware updates, Synapse helps keep you on top of your game, all the time.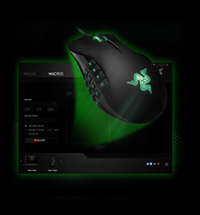 Personalized Device Settings Anywhere
Razer Synapse lets you customize sensitivity settings, keybinds, and macros, and saves your preferences onto the cloud, for easy access regardless of where you are. So whether you're heading for a gaming session at your friend's or at a LAN party, simply load your custom profile and you can jump straight into action.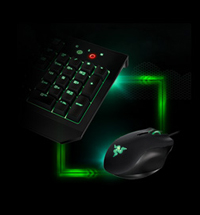 Inter-device Communication
Whether it is tweaking the sensitivity of your Razer mouse by double-tapping a button on your Razer keyboard, or swapping keyboard profiles by scrolling your mouse wheel, Synapse creates synergy between your Razer peripherals, allowing you to adjust your controls without disrupting your game.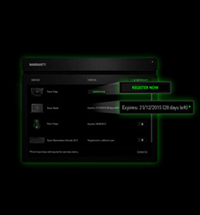 Convenient Warranty Registration and Code Redemption
Register your Razer peripherals without serial numbers or product codes, and keep track of the warranty periods, all without any hassle. Furthermore, be eligible for awesome rewards ranging from exclusive RazerStore promos to game beta code giveaways.
ALL THE FEATURES
Scroll wheel
Scroll wheels are just as important for going through lengthy websites and documents, as they are for gaming. Whether it is to scope, throw a grenade or zoom in on the battlefield, yours needs to be highly robust for heavy duty scrolling. That's why Razer mice scroll wheels can turn hundreds of millions of times in its lifespan, and be actuated with the exact same precision as a mouse button.
Hyperesponse buttons
From Razer's very first gaming mouse to now, our mice buttons are designed to be hair-trigger sensitive. This means as soon as you think it, your finger has already mouse clicked it. Utilizing highly durable Omron switches, there is a pronounced tactile feedback to your fingertips with each actuation, so you get the absolute assurance that you're winning with precision.
Green LED lighting
The Razer Abyssus features bright green lighting on the Triple-Headed Snake logo.
Synapse
Synapse is not just a standard mouse configurator. It's packed with basic and advanced customizable features so your Razer Abyssus works exactly the way you want it to.
Unlimited profiles and other configurations
Every game is different and comes with its own set of control requirements. No longer limited by last generation onboard device memory, Razer Synapse brings the brain of the Razer Abyssus to the cloud, expanding the number of storable profiles and configurations to infinite, and allows for longer, more complex macros.
Inter-device communication
Pair two Razer peripherals for the ultimate gaming combo. You can temporarily change the sensitivity on your Razer mouse by holding down a button on your Razer keyboard, or quickly change keyboard profiles using the mouse scroll wheel, with customizable lighting reflecting these changes. Even create macros on your mouse and have it available on your keyboard, there is no limit to what you can do with the hive mind that is Razer Synapse.

Buttons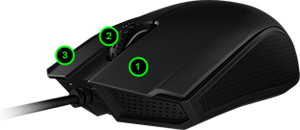 Left click
Scroll wheel & middle click
Right click
SPECIFICATIONS
Mouse
Sensor Resolution
400 DPI / 1800 DPI / 3500 DPI
Number of buttons
3
Lighting
Yes
Interface
USB
Dimensions / Weight
Dimensions
Mouse: 115 x 63 x 40 mm
Weight
Mouse: 80g
Features -
Razer Abyssus and Goliathus (Speed) Mouse and Mat Bundle