Seagate Desktop HDD BarraCuda ST2000DM005 2TB 64MB Cache SATA 6.0Gb/s 3.5
» Brand

:

seagate

» Part Number

:

2U9102-300

» Stock Availability

:

In stock
Price:
22,000.00
Description :
BarraCuda
Cost-effective storage upgrade for laptop or desktop computers
Store all your games, music, movies and more with up to 4TB of storage
SATA 6Gb/s interface optimizes burst performance
Seagate Secure models for hardware-based data security
Instant Secure Erase allows safe and easy drive retirement
Protect data with Self-Encrypting Drive (SED) models
Product Description:
Versatile and dependable, the fierce Seagate BarraCuda drives build upon a reliable drive family spanning 20 years. Count on affordable BarraCuda drives as 2.5 and 3.5 inch HDD solutions for nearly any application—working, playing and storing your movies and music.
BarraCuda
Amazing Versatility.
Unmatched Dependability.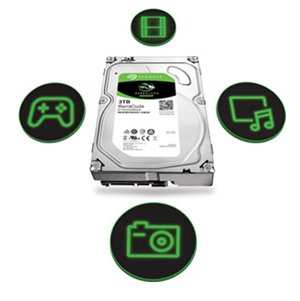 Amazing Versatility
Versatile and dependable, Seagate's fierce new BarraCuda drives are inspired by the past but ready for the future. BarraCuda drives are a cost-effective way to handle all your PC needs—working, playing storing your movies and music, and more.
Best-Fit Applications
Desktop or all-in-one PCs
Home servers
Entry-level direct-attached storage devices (DAS)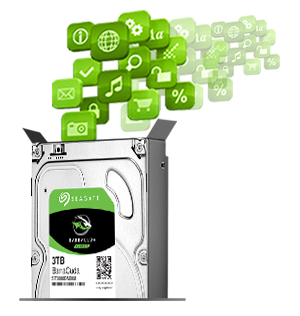 Massive Capacity
Store it all. With capacities up to 4TB for desktops and up to 2TB for laptops, BarraCuda leads the market with the largest range of storage options available.
Tireless Durability
Count on a product from the brand that has shipped 2.4 billion units over 20 years—17% more than any other manufacturer. BarraCuda drives even feature Self-Encrypting Drive (SED) technology to prevent data breaches. Certain models also offer Seagate Secure* hardware-based data security with Instant Secure Erase for easy drive retirement.
* Seagate Secure models are not available in all countries. May require TCG-compliant host or controller support.
BarraCuda

BarraCuda Pro

FireCuda

Ideal for
Home and business computing: versatility and reliability for desktop systems and laptops
Home and business computing where conditions demand higher capacity, better performance and longer warranty
Gaming systems video editing, power computing: 5x faster than BarraCuda Pro, more capacity than SSDs
Capacity
Up to 4TB
Up to 10TB
Up to 2TB
Performance
Fast
Faster
Fastest
Key Feature
Versatility
Maximum capacity
Flash-enhanced for higher performance
Form Factor
3.5" desktop
2.5" laptop
3.5" desktop
3.5" desktop
2.5" laptop
Limited Warranty
2 years
5 years
5years
Learn more about the Seagate ST2000DM006